So there you are, doing your best to connect with a friend over a cup of coffee, but you can't help but notice the pulsing alert on your phone's touchscreen. What if it's your babysitter trying to reach you, or a nasty email from your boss?
You surreptitiously unlock your phone to see what the fuss is about—and just like that, you become one of those people who can't keep their hands off their handsets, even when there's a flesh-and-blood person in front of them. (Oh, and that message on the screen? It was a promo for a half-off sale. Great.)
The good news is that your Android phone or iPhone boasts a series of tools that can help you concentrate on the people who matter, rather than being distracted by random calls, messages, and alerts.
Read on for four ways to keep your eyes and hands off your phone, starting with…
Let Do Not Disturb mode screen your calls (Android and iOS)
Sure, activating Do Not Disturb mode for iOS (tap Settings > Do Not Disturb, or tap the Do Not Disturb button from the swipe-up Command Center pane) or Android (flick down with two fingertips to reveal Quick Settings, then tap the Do Not Disturb button) is a great way to keep your phone from buzzing during lunch, but you may still find yourself tempted to check your messages. After all, what if your spouse is trying to reach you—or your irate supervisor, for that matter?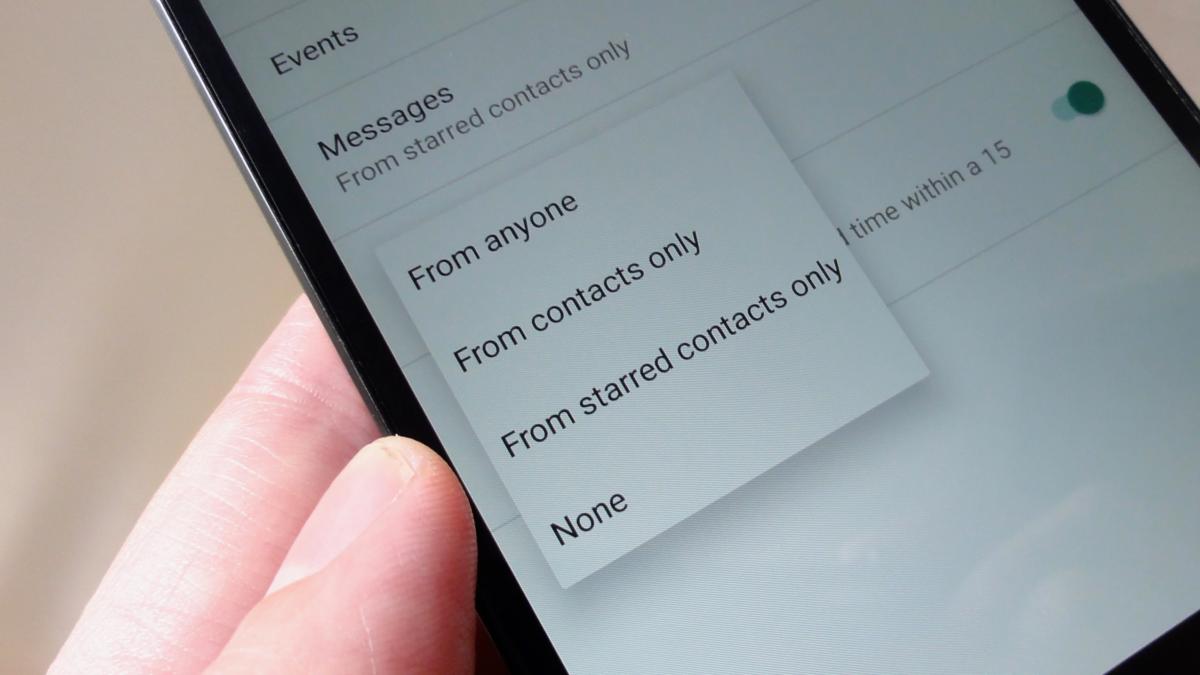 Here's a trick that'll help keep your mind on your Caesar salad: just set Do Not Disturb to screen your calls and text messages, allowing only the most important ones through. That way, you'll be confident that your silent Android phone or iPhone isn't actually ringing off the hook with mission-critical calls, and more likely to pay attention during your lunchtime chat.
For Android:
Tap Settings > Sound > Do not disturb > Priority only allows, then pick some options. For example, you can set "priority only" to include incoming calls and texts from contacts, reminders, event alerts, and repeat callers. To restrict call and text alerts to your innermost circle, make sure Calls and Messages is set to Starred contacts only, then go through the Contacts app and star only those contacts who really, truly matter to you. Finally, a Repeat callers setting will allow a caller to get through if they've called twice within 15 minutes.
To enable Priority mode, flick down from the top of the screen to reveal Quick Settings, tap Do Not Disturb, then make sure the Priority only tab is enabled.
Finally, sit back and give your full, undivided attention to a (grateful) friend.
Note: Android's version of Do Not Disturb boasts three different modes: Priority Only, which blocks specific alerts for apps, calls and texts; Alarms Only, which blocks all alerts except for the Android alarm clock; and Total Silence, which blocks all alerts, no matter what. While the Alarms Only and Total Silence modes will guarantee you a peaceful lunch hour, they may also block critical alerts, calls or alarms. In general, you should stick with Priority Only mode unless you're certain you don't want any interruptions, period
.
[Source"timesofindia"]