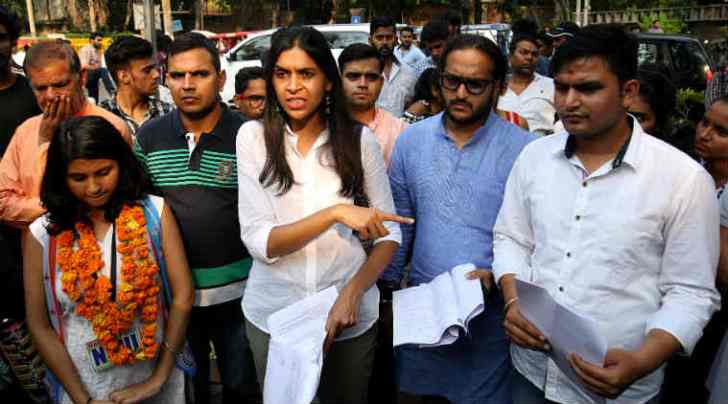 The Delhi High Court on Friday allowed NSUI candidate Rocky Tuseed, whose nomination for presidential post was rejected, to contest Delhi University Students Union (DUSU) elections. The varsity polls will be held on September 12.
In an interim order, the court listed for September 28, his main petition challenging the rejection of his nomination by the DU Chief Election Officer's (CEO) on grounds of disciplinary action.
Earlier in the day, the high court posed searching questions to the Delhi University (DU) for rejecting the nomination of the Congress-affiliate NSUI's presidential candidate for the upcoming students' body elections.
It sought to know from the University how a warning given to a student by a college could be termed as disciplinary action taken against him.
"The petitioner says he was warned by Shivaji College and it was not a disciplinary action which this court is finding to be true. I don't understand how can it be a disciplinary action. By no stretch of imagination, it can be put as a disciplinary action," the judge said while hearing the arguments.
The court also said that the university was "stigmatising" the student by rejecting his nomination. Senior advocate P Chidambaram, appearing for Tuseed, argued how the CEO can reject his nomination on the basis of an anonymous complaint.
"It was done behind my back. If there was any disciplinary action against me in the past by the college authorities, I should have been called and heard. I was only warned and no disciplinary action was taken against," Chidambaram contended. He argued that in view of the Lyngdoh
Committee guidelines, a person is not eligible for contesting polls if he has been convicted in any criminal offence and there should be no disciplinary action against him.
Senior advocate Sudhir Nandrajog, appearing for DU and CEO office, opposed the plea saying it was not maintainable and the university has been wrongly made a party.
He said that not allowing a student to enter the college premises amounted to punishment, which showed that disciplinary action was taken against him.
"A student is not necessarily sent behind bars. He was barred from entering the college. What is this if not a disciplinary action? He was called along with his mother and he has apologised," the counsel argued.
National Students Union of India (NSUI) candidate Tuseed's nomination was cancelled on September 6. He had said he has contested elections earlier too for the Department of Buddhist Studies' students body and hence should be allowed to contest the DUSU elections.
["Source-timesofindia"]