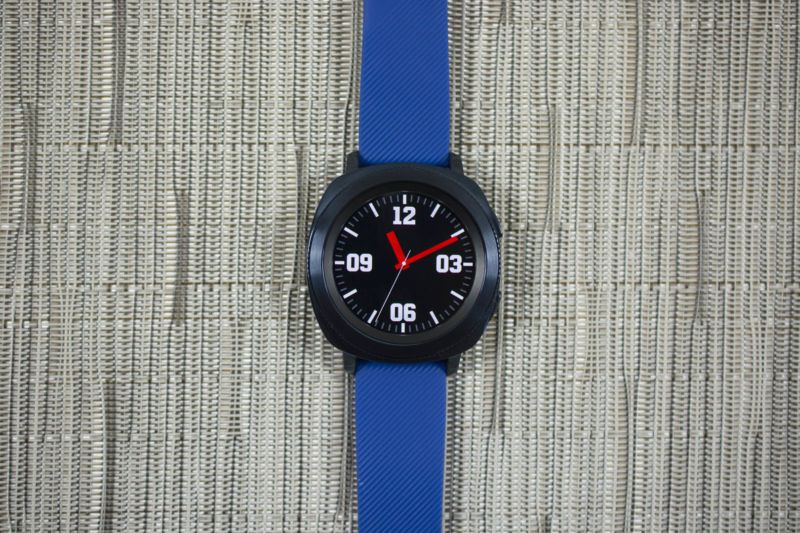 Despite recent watchOS dominance, Samsung hasn't given up on Tizen. The OEM's wearable operating system continues to power a bunch of devices made exclusively by Samsung, including the $249 (originally $299) Gear Sport. Introduced last year, the Gear Sport is the successor to the Gear S3 and the smartwatch cousin of the Gear Fit 2 Pro band.
It's easy to forget about Tizen since it's not as well known or well marketed as Android Wear or watchOS. But considering the Gear Sport can connect to both Android and iOS devices, users shouldn't rule Tizen out of their smartwatch buying decisions. While the Gear Sport isn't drastically different from the 2016 Gear S3, its updates make it a viable competitor to the top Android Wear devices and the latest Apple Watch.
Design
Here's a controversial opinion: the Gear Sport is more attractive than the Apple Watch. From a pure design point of view, Samsung's smartwatch looks more like a traditional watch than Apple's wearable does, and Samsung did a good job marrying elements of regular timepieces and advanced smart wearables in one device.
The case is circular, but four slight corners give it a phantom square shape, with home and back buttons on its right edge. Attractiveness is ultimately subjective, but I give props to Samsung for making a smartwatch that looks so similar to a regular watch with less extra size and weight than its competitors.
Encircling the 1.2-inch Super AMOLED display is a textured bezel that you can rotate to scroll between options on the screen. Not only did I enjoy using this as an alternative to tapping and scrolling with my finger on the display, but its placement around the display makes it easier to use than Apple's side-mounted digital crown. I defaulted to the rotating bezel over the touchscreen. Although the 360×360 full-color display is tempting to play around with since it is so crisp and bold.
Due to its shape and size, the Gear Sport is bulkier than the Apple Watch and even the Fitbit Ionic, but it doesn't look as dramatic on my small wrist as other devices do. Samsung's newest smartwatch is even smaller than its Gear S3 (lack of LTE support makes for a more compact device), and it could make a solid watch for most wrist sizes. Each model comes with a 20mm sport band that can easily be switched out or replaced thanks to quick-release pins at either end of the watch's case.
Inside the Gear Sport is a dual-core processor, a slew of sensors, including an accelerometer, gyroscope, GPS, barometer, ambient light sensor, and heart-rate monitor. It has 768MB of RAM and 4GB of storage for music. It also has a 300mAh battery that should last about two days on a single charge. The entire watch is water-resistant up to 50 meters, making it capable of tracking swim exercises.
The battery life pleasantly surprised me: my Gear Sport lasted nearly three full days and two full nights before needing to be charged. This time included three recorded workouts and a decent number of notifications coming through to my wrist. I only put the watch in Do Not Disturb mode while sleeping so email notifications wouldn't wake me up at 2am.
 Valentina Palladino

 Valentina Palladino

 Valentina Palladino

 Valentina Palladino

 Valentina Palladino

 Valentina Palladino

 Valentina Palladino

 Valentina Palladino

 Valentina Palladino
Fitness chops
The device's name signals the Gear Sport's emphasis on fitness. Six out of the 10 preset widgets on the watch are health-related as well: calories burned, steps taken, floors climbed, heart-rate, workout, and quick-access exercise widgets immediately follow the watch face when you rotate the textured bezel. There are also a few watch faces that show fitness stats in small numbers and icons around the time, making that fitness information glanceable.
The workout widget summarizes the number of minutes you spent exercising that day and lets you begin a new workout. The Gear Sport has 17 workout profiles to choose from—the basics, including running, walking, and cycling are covered, as well as options like treadmill, elliptical, pilates, rowing machine, and others. While there aren't as many available workout profiles as there are on the Apple Watch or the Garmin Vivoactive 3, the Gear Sport still offers enough to suit most people.
The rotating bezel allows you to select the workout you want to begin. Before doing so, you can change your target goal, the stats appearing on the workout screen, and the minute interval for guidance. Some exercises can have more than one workout screen due to the number of stats the Gear Sport can collect—running can have up to three screens to show pace, duration, heart rate, speed, distance, cadence, and more. The Gear Sport can only track so much during other activities, like those on an elliptical trainer, so they only have one available workout screen. However, you can rearrange the order in which the stats appear on those screens, regardless of whether one or more screens are available.
All-day tracking
Exercise tracking is simple and effective once you set your preferences. If you forget to start a workout manually, the Gear Sport can automatically recognize and record some exercises, like running, after 10 minutes of activity. Aside from smartphone notification or goal alerts, the Gear Sport won't interrupt you during a workout. I loved how the time flashed at the top of the screen every time I turned my wrist up while exercising. Often, I'm using my smartwatch to check the time rather than my current exercise stats, so it's helpful that Samsung found a way to include it on the workout screens without having it take up an entire section.
The Gear Sport's heart-rate monitor is accurate, measuring my pulse within three BPM of Polar's H10 chest strap at both high and low rates. I care most about recording my heart rate during exercise, but it's possible to take a pulse measurement at any point throughout the day. The Gear Sport even lets you label these heart-rate measurements with categories like "resting," "after exercise," "fearful," "sick," and others so you can keep track of pulse changes as they relate to your state of being.
The GPS is just as accurate, and it's quick as well. It took seconds for the GPS to locate me as I started a recorded walk around the block. A tiny GPS icon at the top of the Gear Sport's display flashes green when it's locating you and remains green when it's tracking you. After an outdoor workout, a tiny map of your route appears at the end of the workout summary on the watch, and a larger map will accompany the workout notes in the Samsung Health mobile app.
Samsung makes good use of the Gear Sport's display by putting nearly full workout details on the watch, ready for you to review any time after recording. Some devices force you to go to its companion mobile app to see full stats, graphs, and other data, but the Gear Sport includes a log of each recorded workout for that week with duration, calories, and heart-rate graphs and zone details on-screen. The same summary pops up immediately after you finish a workout, but it's convenient to be able to review it again in full detail at any time.
For the few single-move workouts on the Gear Sport (jumping-jacks, crunches, etc.), a small human icon does the exercise on the Gear Sport's display to show you the correct positioning before starting. While the device can count reps for these exercises, the numbers are hit or miss. Garmin still holds the crown for rep-counting accuracy on its wearables like the Vivosmart 3, but it's a feature that Samsung was smart to include, and hopefully it will get more accurate with future Tizen software updates.
The Gear Sport also tracks sleep, but I wouldn't wear it to bed every night considering its size. It was less obtrusive than I anticipated during the few nights I slept with it on, but it doesn't help that its sleep tracking isn't the best. On a night that I slept about eight hours, the Gear Sport measured just over eight hours the next morning—but things got weird when I checked out the stats in Samsung Health. My total sleep time was eight hours and fifteen minutes, according to the app, but a bar graph of my sleep stages showed data for just five of those hours.
It also listed my "actual sleep time" as just under four-and-a-half hours. There aren't any explainers in the app as to what Samsung Health classifies as "actual sleep time" or "motionless" time (I assume the latter is deep sleep, but your guess is as good as mine), making the Samsung Health sleep page one of the more peculiar pages in the app.
As for the three-hour discrepancy in the sleep graphs, a Samsung representative could only chalk it up to a break during sleep (one that could be triggered by getting up for water or going to the bathroom). I didn't get up from bed at all that night, but I do move around a lot and wake up while doing so. The next night, my sleep numbers and graphs matched up and correctly listed the number of total hours I slept, so it's possible that the confusing first night was just a fluke.
Samsung Health mobile app
In general, the Samsung Health mobile app is a confusing amalgamation of different aspects of other fitness apps. It borrows bits and pieces from other programs (its customizable square "items" sections on the home page look nearly identical to those in Fitbit's mobile app) to make a one-stop shop for reviewing exercise, daily activity, and workout routine data. I can't get over simple oversights like this: when tapping on your daily activity bar graph, a steps figure page comes up with total steps taken today, total distance, and calories burned, but no workout data. Any exercise activity must be reviewed by tapping the running-man circle under the Goals section on the homepage. I'd much rather have a bar graph showing my activity levels by hour with both step and exercise data included on the same page.
Samsung Health also doesn't integrate with Google Fit or Apple Health—a big drawback if you're using the Gear Sport on a device that's not made by Samsung. The app does connect to other third-party fitness programs like Fitbit, Strava, and MyFitnessPal, so you may find that one of your preferred fitness programs is compatible. But for anyone relying on Google's or Apple's health ecosystem, you'll be out of luck.
Samsung Health does have one thing going for it: Programs. Although hidden in the app (in the triple-dot, right-corner settings menu and in the "manage items" tab at the bottom of the homepage), the Programs page lets you choose from a variety of exercise routines to follow. Everything from weight loss to endurance training, muscle-building, and running has a number of branded workout routines that you can add to your profile and complete at your own pace. Most of them clearly list the number of workouts in the program, how long the program lasts (some are just one week long, while others are multiple weeks), and a difficulty level. Many strength-based programs also have downloadable previews of exercises like squats and mountain climbers to show you how to properly complete them.
Programs are Samsung's version of Fitbit Coach, but they are more like Microsoft's guided workouts on the now-defunct Microsoft Band because they're all accessible for free. Using a Samsung smartphone or a TV, you can watch the guided portions of the workout while you complete them and see real-time heart rate without looking at the Gear Sport every few minutes.
Tizen features
The Gear Sport runs Tizen 3.0, Samsung's wearable OS that doesn't get as much recognition as it should. That under-appreciation may be due to past Tizen devices only working with Samsung smartphones, but the Gear Sport can be connected to Android or iOS devices as well, opening up Tizen to more users.
I tested the Gear Sport using a Galaxy S7 Edge to get a pure experience using a Samsung wearable with a Samsung smartphone. If you connect the Gear Sport to a different Android device or an iPhone, you'll have to download a few Samsung-made apps to support all of its features, including Gear, Samsung Health, and others.
Regardless of connected smartphone, you'll also need to make a Samsung account to use features like Samsung Pay and to download some Gear apps. I avoided making a Samsung account until I wanted to download the Spotify Gear app, which requires a Samsung login before downloading. Going through these extra sign-up and log-in processes only reminded me of how useful it is to use a native smartphone and wearable combination. One account connects everything when you're using an Android Wear device with an Android smartphone or an Apple Watch with an iPhone, making them infinitely easier and less frustrating to set up and begin using.
Once you log in to all the appropriate accounts, Tizen on the Gear Sport is quite intuitive. Watch faces are bold and bright on the display, and a long-press lets you choose from many on the fly. Swiping down from the top of the display brings up quick-access settings icons, including ones for battery-power management, water-resistant mode, brightness adjustment, and music playback. A swipe to the right brings up all your recent smartphone alerts, while a swipe to the left reveals the app drawer.
The Gear Sport can hold a number of standalone wearable apps, so you'll have a few pages to your app drawer. Using swipes or rotations on the bezel, you scroll through to select the app you want to use. Much like Samsung smartphones, the Gear Sport has a lot of Samsung bloatware that you can't uninstall—in fact, most of the Samsung-made apps on the Gear Sport are there to stay. If you really hate looking at them, I suggest using the settings in the Gear mobile app to push all the Samsung bloatware to the end of the app drawer.
Gear mobile app
The Gear mobile app is akin to Apple's Watch app in that it holds all customizable things relating to your Gear device. The fun stuff—watch faces, third-party apps, and the like—dominates the homepage of the app, along with three convenient circles showing your Gear's current battery, storage, and RAM conditions. I love these icons because they give you more control over the health of your wearable: the battery widget explains which apps have used the most power on the device, and it lets you turn on low-power mode. Meanwhile, the storage and RAM widgets let you quickly clean up both in order to free up space and memory on the device.
All of that is on the "info" section of the Gear app homepage, while the "settings" section holds all the customizable preferences regarding notifications, apps, music, connectivity issues, and quick replies. If you have just one Gear device connected, its name will appear at the top of the app, and all things inside the Gear app will pertain to that device. However, you can connect more than one device at a time if you wish.
Standalone Gear apps
Like Android Wear standalone apps, Gear has its own suite of available third-party wearable apps that you can download to the watch from the Gear section of the Galaxy App Store. But most of these apps are more like Garmin apps in its Connect IQ store—unknown, somewhat wonky versions of established smartphone apps.
You'll be hard-pressed to find an accompanying Gear app for an official smartphone app: instead of Google Maps, there are Gear Navigator and Gear Maps Standalone (free and $2.00, respectively), and instead of YouTube there's Player4YouTube (but why would anyone want to watch a video on a 1.2-inch display anyway?). But you don't need a dedicated Gear app to receive notifications from a desired smartphone app—the device settings in the Gear mobile app let you control which mobile apps can send alerts to your wrist.
Spotify made one of the few dedicated Gear apps I'd use, and it's the one I was happiest to have. You can browse and play music directly on the watch after signing in to your premium Spotify account—but signing in will take you a bit. Instead of pairing with the Spotify mobile app on your smartphone, this app is truly standalone, meaning you must sign in again on the watch using a tiny keyboard and the rotating bezel. It's annoying, but you only have to do it once. Then, you can stream music from the watch when connected to Wi-Fi and listen to downloaded playlists when offline through a Bluetooth headset.
While the Spotify app is necessary for listening to music offline (as is a Spotify Premium membership), you don't need the app to control Spotify playback from your smartphone. Gear's default music controller app works well for this and for controlling any other smartphone audio source. You can also save non-Spotify music to the Gear Sport using the settings page in the Gear mobile app.
Music storage and control have become important features for high-end smartwatches to have—as has LTE support. The Gear Sport doesn't have LTE access, which may bum out some potential customers who wanted to be able to leave their smartphones at home during a bike ride. The device has a phone app on it, though, which can be used to see recent calls and initiate new calls with a small on-screen dial pad. But those calls will go through your smartphone, so you need to have it within range if you want to actually hear your caller.
S Voice
While Spotify made me happy, voice commands on the Gear Sport made me anything but happy. It has its own version of Google's Assistant and Apple's Siri—but it's not Bixby. Samsung's S Voice acts as the virtual assistant that can answer quick queries and complete basic tasks.
But S Voice is subpar at doing any of those things, and its speed is my main issue with it. S Voice takes much longer to hear your command, analyze it, and spit out a reply on the screen than similar tasks take on many other devices. A basic question about weekend weather forecasts that would have prompted a two- to three-second pause from Siri on the Apple Watch forced a five- to 10-second wait from S Voice.
The S Voice page on the Gear Sport has a question-mark icon that, when tapped, will bring up a list of available commands. Most of them control the watch itself rather than external profiles, accounts, or the Internet in general. The commands are a mixed bag: some aren't intuitive, like saying "heart rate" instead of "check heart rate" or "take my pulse" to take a real-time measurement. But others are useful, like "start workout" to begin recording exercise. More often than not, my commands (both those taken directly from the suggested phrases and my own phrases) were met with an error message on the Gear Sport's display.
I was able to get S Voice to give me a few weather forecasts and the population of Italy (a tidbit sent to my smartphone rather than detailed on the watch itself). But S Voice needs some serious improvement for it to even come close to Apple's Siri or Google's Assistant. Samsung will be integrating Bixby into all of its devices this year, so maybe we'll soon get an updated Gear Sport or similar wearable with a more capable voice assistant.
Overall, I appreciate Tizen's clarity and ease of use. For first-time smartwatch owners, many aspects of the OS are easier to dive into and grasp quickly than Android Wear, and I prefer how information like smartphone alerts and available apps are organized on-device. I also loved using the rotating bezel to scroll through options and information—after using so many touchscreen smartwatches, using one with unique tactile feedback was a pleasure.
Don't overlook this Tizen device
The Gear Sport lives up to its name as a solid fitness device, and it's helped in part by Tizen's capabilities as a smartwatch OS—the on-watch workout app is comprehensive and rich with exercise detail both during and after a workout. While Samsung Health isn't my favorite fitness mobile app, it has all the charts and graphs you'd expect to see in a competing fitness program, it connects to some of the biggest third-party health programs (although not Apple's or Google's), and it includes Programs for those who want free guided workout routines.
Other aspects of the Gear Sport's design and software enhance the fitness experience as well: it's a stylish device with a discreet yet practical rotating bezel, accurate heart-rate and GPS sensors, and a great battery life considering its high-end hardware. Tizen is also the only smartwatch OS that allows Spotify Premium users to download playlists for offline use—as a paying Spotify user who works out most days, this feature is invaluable.
The Gear Sport is a good smartwatch as well, and the fact that you can connect it to Android or iOS devices only makes it that much more appealing. But for iOS users, the Apple Watch is still the better choice overall from a pure connectivity standpoint. I'd only recommend the Gear Sport if you're a "Never Apple Music" person or if you're intrigued by Programs.
There's no telling when Spotify will open up offline mode to other wearables (or if Apple would even allow saved Spotify tracks on the Apple Watch), or when Apple will introduce guided workout programs in the future (I expect they will eventually, but it's hard to say when). Otherwise, the Apple Watch Series 3 does everything the Gear Sport can do, has more available third-party apps, and includes optional LTE support.
But the Gear Sport is one of the strongest fitness devices available to connect to an Android smartphone today. It's a no-brainer for Samsung smartphone users who want a do-it-all wearable, and non-Samsung Android users should seriously consider the Gear Sport if they can deal with having a few more Samsung apps on their smartphone than they might like. Only those who are sticklers for Google Fit or those who want a bevy of third-party apps on their wrists should still go with Android Wear.
The Good
Attractive design with useful rotating bezel.
Accurate GPS and heart-rate monitor.
Good battery life.
Many guided workouts/multi-week routines with Samsung Health's Programs.
Spotify Premium users can save playlists for offline listening.
Works on Android and iOS devices.
Gear mobile app organizes device settings and fun customizations well.
The Bad
Sleep tracking can be finicky.
Samsung Health doesn't integrate with Google Fit or Apple Health.
Limited number of useful Gear apps.
No LTE support.
The Ugly
S Voice isn't good at all.
["Source-arstechnica"]