BAMTech chief technology officer Joe Inzerillo doesn't mince words on how broadband data caps might threaten the online video explosion.
"I don't think it's healthy for the industry," Inzerillo said during the Streaming Media East conference in New York in May. "I think an open, free internet—not free in terms of cost, but free of encumbrance from data caps—is the right thing to do."
Inzerillo is in a position to be concerned. BAMTech, a spinoff of MLB Advanced Media, provides the streaming technology for many popular online video services, including HBO Now, Sony's PlayStation Vue, WWE Network, and MLB TV. Those services are becoming increasingly attractive to consumers who want to cut cable TV, or at least shave the size of their pay TV packages.
But perhaps in response to the rise of cord cutting, several major home internet providers are now trying to curb streaming video use through data caps. Internet service providers Comcast and Cox have both set 1TB caps in some markets, while AT&T sets varying limits based on speed tiers. All three companies charge an additional $10 per 50GB in excess of their limits, and if you want to restore unlimited data, Comcast charges $50 per month extra and AT&T charges $30 per month extra.
So during his conference keynote, I asked Inzerillo whether he was concerned about these developments, and what a company like BAMTech might be able do about it.
Aside from just lobbying the federal government for more consumer-friendly policies, Inzerillo said we might see streaming providers tweak their apps to offer greater control over data consumption. Letting users reduce a stream's frame rate from 60 frames per second to 30 frames per second, for instance, would consume far less bandwidth, as would reducing stream resolution to less than 1080p. Some streaming services, such as Sling TV, already offer various bandwidth settings.
Inzerillo said that in general, the more aggressive ISPs get, the more options you'll see to keep consumers in control. He pointed to wireless carrier programs such as T-Mobile's Binge On program as evidence that people are willing to make those trade-offs.
"You can imagine that there's some more of those switches, so people can elect to sacrifice quality for bandwidth," he said.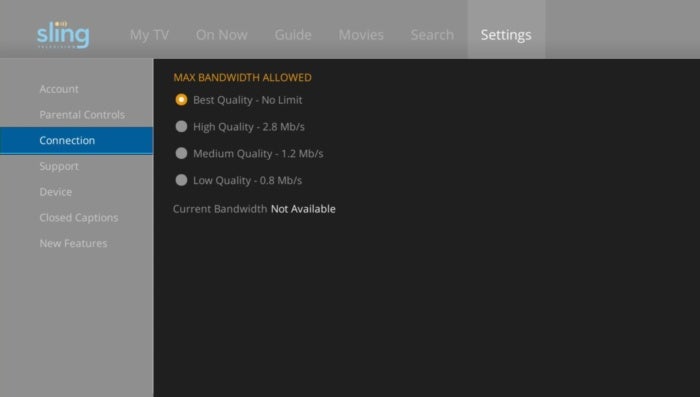 Inzerillo did say that he didn't believe data caps on the wired side are too onerous right now, and suggested that their main purpose is to limit congestion. (For what it's worth, this contradicts the explanation from ISPs, who've more or less admitted that the goal is to not to avoid congestion, but to extract money from people who use more data.) Still, he reiterated that home data caps are worrisome for the streaming industry.
"Certainly data caps are not good from a content provider standpoint," he said. "Certainly nobody wants them to be super restrictive."
[Source"pcworld"]