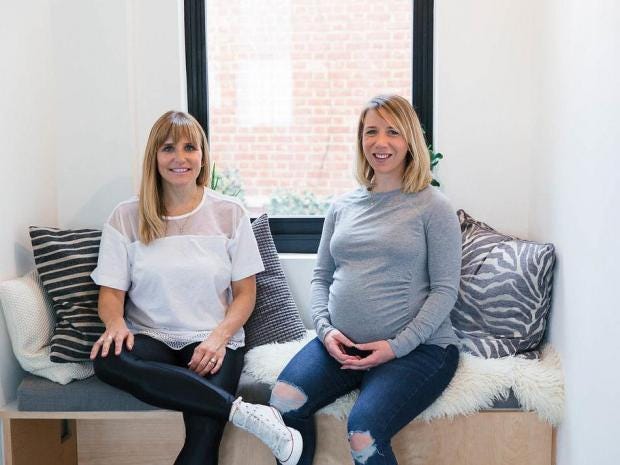 If you were seeking an underexplored industry into which to launch a business in London, health and fitness might not be your most appealing choice. To an inexpert observer like myself, competition seems more brutal than the toughest pre-dawn boot camp on a rainy day in the depths of wintry London.
In addition to the sprawling empires of Virgin Active, Fitness First and LA Fitness – not to mention their scrapping lower-cost counterparts – the City has in recent years witnessed the emergence of dozens of studios offering individually tailored classes, for everything from boxing to trapeze and tap-dancing to aerial yoga.
The race to secure even a slither of the market is relentless and seemingly toughening by the week. Having an edge requires tenacity, ambition and a strong unique selling point. But despite being in the thick of it all, Joan Murphy looks as though the only sweat she's ever broken might have been while doing burpees or squats.
The mum-of-two set up Frame fitness studios about a decade ago and – together with co-founder Pip Black – managed to create a concept that was brilliantly unique yet astonishingly simple. And it seems to be paying off.
Since its launch, the two have attracted what borders on a cult following. They've opened four studios and two more are set to follow in the coming months. Every week around 10,000 people visit one of the studios. They've collaborated with high-end fashion chain Whistles to launch a line of active wear, and they operate an academy where they train their own gaggle of prospective gym instructors, based on their specific principles and values.
"Our philosophy is to make exercise accessible to everyone," Murphy – a feisty Kiwi – tells me when I meet her at the Frame studio in Shoreditch.
One demographic that she says is frequently sidelined by the booming fitness industry is expectant mothers and new parents. So Frame has developed a programme of pre-and post-natal fitness classes called MumHood, out of which a community of like-minded women has materialised.
It's a unique concept in London and they say that it's proven to be a hit.
"Mothers come to our studios just to hang out," she explains. "We're giving them a place to feel great about themselves and to reacquaint themselves with exercise. Often that's exactly what you need when you've had a baby."
MumHood now has its own website with exercise videos, a timetable of suitable events and classes and an online shop. Mums can also sign up to different programmes on the site at a charge, they can then benefit from at-home videos and other resources.
The studio, just off Shoreditch High Street, is Frame's first. It's housed in what looks like an old warehouse and a long, rustic wooden table sits next to reception. Magazines are scattered across it. There's a juice bar that sells snacks and refreshments and a shop where customers can browse a selection of quirky-print tights, vests, yoga mats and jump suits while mingling with instructors.
It feels more like a trendy café than a gym. Only the pumping music from one of the studio rooms reminds me that people are coming here to sweat.
Murphy and Black met 10 years ago when the two women were both working in marketing.
Murphy, a former professional track cyclist, and Black, who used to be a hockey player, shared a passion for healthy living from the get-go. The idea for Frame was borne out of a frustration at the rigidity of many of the fitness offering available in London.
"It started with the premise that getting fit should not be a chore, and we basically took it from there," Murphy says.
The duo managed to secure a bank loan in 2008, at the cusp of the financial crisis and – after months of meticulous research, networking and planning – eventually opened their first studio the following year.
It was a tough time to thrive in a market that's largely dependent on people having disposable income that they're willing to spend on what's generally still considered a luxury, but the stripped-back, approachable and friendly feel of Frame clearly struck a note.
The gyms don't feel like exclusive health clubs. Unlike some other studios, people don't go to Frame to be seen and take selfies, Murphy explains.
"The environment is not hyper-competitive in the way that other places are," she says. "It's all about feeling good about yourself. It's not all Type A."
From the names of the classes to the branding of the products on sales, the vibe is distinctly tongue-in-cheek. One class is called "Rebounding" and it's taught on trampolines. Others are called "Bend it like Barbie", "80s Aerobics" and "Get Leggy".
After doing a barbell-based class, I can attest to the fact that instructors are fierce but appear conscious of the fact that the fitness industry has, to some people, become a bit of a minefield for self-confidence. They convey the message that, above everything else, getting fit should be as good for the soul as it is for the body.
And something else that's unique about Frame is its largely female leadership.
Although the gender balance across the fitness sector has improved in recent years and is distinctly better than in some other industries, management positions are still frequently held by men.
Murphy tells me that she's not a "girl-boss-hear-me-roar type person" but that there is something to be said about having a team of women managing a business – especially if that business is largely targeted at women.
The average client – or Framer, as they're affectionately known in the studio – is aged between 20 and 40 and an estimated 85 per cent of them are women. Hiring more women than men into management was not a conscious decision but an "organic" development, Murphy says.
Whatever their strategy it seems to be working. Studios in Hammersmith and Fitzrovia are due to open soon, adding to the ones already up and running in King's Cross, Queen's Park, Victoria and of course Shoreditch.
They're also launching a new collection of sports clothing in the fourth quarter of this year, and MumHood is set to be expanded too.
Last year, research body Mintel forecast that the number of Brits using private health and fitness clubs will grow by 20 per cent in five years to reach 6.5 million by 2020.
Bearing that in mind, it's probably good that Murphy doesn't describe Frame as a startup, but as a "growth business" instead.
Industry-wide, the pace of growth certainly looks ferocious. But if the last decade is anything to go by, Frame won't be breaking much of a sweat in its mission to keep up. Metaphorically at least.
Source:-independent